Papadopoulos is your reliable partner for luxurious and high quality marble
Marble, granite, quartz, porcelain and other natural stones
Your reliable partner for custom fabrication
High quality engineered stones and sintered materials
Design your custom countertop for your kitchen or bathroom. Our collection of elegant, luxurious marble and other durable natural or manufactured stones such as granite, MDi, quartz, and porcelain stoneware are available at our showroom.
Explore some of our latest projects and get inspired. We help you choose the materials that are right for you. No project is too small for us.
Marble enhances the value of your property
Marble and other natural stones can add value to any house. First impressions count, and our materials can boost the worth of your property, and offer a return on your investment.
Papadopoulos is an experienced marble fabricator and contractor for large-scale projects
Our sales team can help you select the proper materials. We propose based on suitability, aesthetics, and budget.
We offer genuine and honest advice to find the ideal product.
Our comprehensive stone library allows you to choose from hundreds of choices.
Quality Products
The expertise to offer genuine, honest advice. We have the ideal product to suit your project.
Technology
With the latest cutting-edge technology and expertise, we process solid stone to specification.
Marble
We stock a selection of the best luxurious marbles from Greece and Italy. Marble is a stone of incredible beauty, occurs in a very wide range of colors and it is used in prestige architecture and interior design.
Interior & Exterior Applications | Kitchen and Bathroom Tops | Table Tops | Bathroom Floors and Walls | Floor tiles and Stairs
Inalco MDi
MDi by Inalco is an innovative large slab surface with superior durability and hardness. It is virtually maintenance free and will look as new dacades after installation. Best where priority is given to hygiene – not just in kitchens, but also in laboratories and pharmacies.
Interior & Exterior Applications | Kitchen and Bathroom Tops | Countertops | Furniture Fronts | Bathroom Floors and Walls | Floors and Stairs | All Weather Areas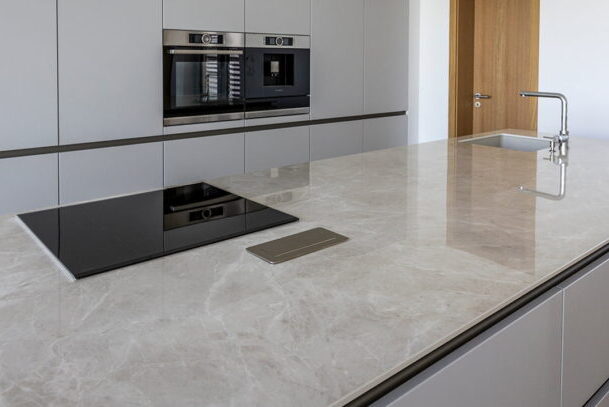 Porcelanato
Porcelanato surfaces are large-size porcelain slabs made with natural materials. They offer unique elegance and quality that stand the test of time with respect for the environment.
Interior & Exterior façades | Kitchen and Bathroom Countertops | Indoor Flooring | Interior Furniture
Italian Ceramic Tiles
Discover the excellence of Italian ceramics. We stock a selection of high-end brands in ceramics. Choose between small or large-size tiles, colors and textures, and create a unique room.
Interior Flooring | Exterior Flooring
Rock Face
Natural rock cladding. The front surface of the stone looks natural while the back is glued to the wall requiring minimum space and less cost. Gives the illusion of a building completely constructed from stone.
Rock natural cladding | Βuilding facades | Fireplaces | Decorations of interior or exterior spaces